The best series now on On Demand
Series that I really like, someone else may not like at all, of course. Still today a couple of series, now on On Demand, that we really enjoyed watching. I would like to share these with you.
On Demand, super easy to watch series
We don't have Netflix or videoland, but do enjoy watching series. We watch these mostly on On Demand. Ideal. Just because we like to watch series one after the other, without having to wait a week. Well on On Demand you also don't have the problem that when recording, series don't look quite right or miss episodes.
Watch the series on the latest air date
For the summer vacations we watched the Vikings. A super cool series, which lasted 5 series long with episodes between 10 to 20. At one point we saw that the episodes would only be on On Demand for a few more days. We quickly went to watch the latest episodes. Pay attention here before you start series, so you never get any surprises. The advantage of series disappearance is that there are always new arrivals.
Which series are worth watching on On Demand right now?
What series did we watch lately and are still available on On Demand for now?
BH 90210
BH 90210: Okay fair is fair, usually we watch series together, but to BH90210 the husband really didn't want to watch with us. The original cast, with o.a. Shannen Doherty, Jason Priestley, Jennie Garth, Ian Ziering, Gabrielle Carteris, Brian Austin Green and Tori Spelling revives Beverly Hills 90210. The seven former teen idols play themselves in a brand new drama series inspired by their real lives and relationships. The series Beverly Hills 90210 was super popular when I was a teenager and together with my mother and sister I watched every episode. What's so funny about this series is that the actors don't take themselves seriously every time and the many guest appearances by former BH actors. There are six episodes.
Take two
Take two: Eddie Valetik (played by Eddie Cibrian) takes his job seriously. He is a private detective and works with the Los Angeles police force. Eddie is paired with Sam Swift (Rachel Bilson), an actress who played a detective in a popular TV series. Sam just got out of rehab and wants to work with Eddie as part of her research for her next role. Needless to say, serious professional Eddie is not happy with his new 'buddy'. However, they have to work hard when Eddie is called in on a case. Sam's main job is to shadow Eddie.
It delivers a series full of humor, drama and suspense. Speaking of relaxed series, this is one of them. Exciting and yet you know it's going to work out every time. It is a great pity that the last episode ends with a huge cliffhanger, but there will not be a season two. Earlier this year we also had this with the series The Brave. We were super excited, but apparently not everyone agrees.
STHLM Requim
STHLM Requiem is a ten-part crime series about a young criminologist, Frederika Bergman, who joins the Stockholm police special investigation team. She ends up in a male bastion of dyed-in-the-wool detectives. The team is led by Alex Recht and Peder Rydh. Frederika is intelligent and has a fresh outlook. Every two episodes deals with one specific case and takes place a year after the previous one. This provides a special perspective on the evolution of the characters and the town, which plays an important role in the series. Nice to see, because it also shows how the characters grow in their own private lives.
©Lumiere
Modus
You may have noticed that we are fans of Scandinavian crime series. On Demand you can see many series from Scandinavia. Mode is set in Sweden. There is a white Christmas and everyone is jolly, including Inger Johanne Vik and her two daughters. She is a psychologist, together with her daughter she gets involved in a murder. Many more murders follow. Detective Ingvar Nyman asks Inger Johanne for help. After season one you can immediately watch season two.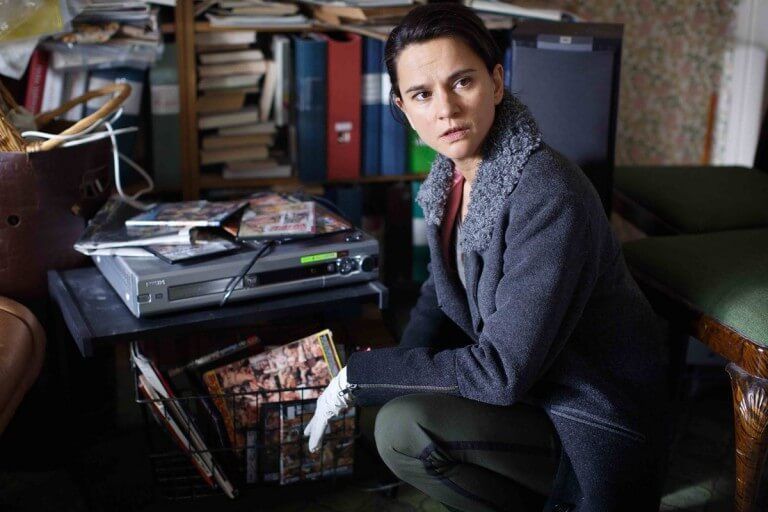 ©Lumiere
The Team
Occasionally you have those series, which are so exciting that you actually want to watch all the episodes in a row, we had that with The Team. Fortunately for us, it consisted of two seasons, so after season 1 ended we could continue with two. The Team is about a seven-time murder in a boarding house in the Danish marshes. It brings together a team of investigators from Denmark, Germany and Belgium. What first looks like an act of terror soon leads the detectives to the illegal international art trade and a wide-ranging network of refugees.