MaHo: the new Soho of Rotterdam!
At the edge of Rotterdam's shopping heart you will find the cozy MaHo quarter: a cozy area full of inspiring boutiques and countless new catering concepts. The 'Soho of Rotterdam' is the place for lovers of good food, unique vintage, special labels and inspiring design.
Undiscovered part of Rotterdam
In every metropolis there are still fairly undiscovered neighborhoods where you can find the best catering establishments, hidden bars and countless vintage stores. Think hip neighborhoods like El Bourne in Barcelona, Soho in New York and Shoreditch in London. In other words: neighborhoods that you should not miss for a successful city trip.
With the MaHo quarter, the Maasstad now has its own place to be. There are numerous bars and restaurants to discover in MaHo, each with a unique cuisine and interior. Also lovers of special designer clothing and vintage finds can indulge in the fun streets.
Quirky specialty stores make a visit to the MaHo district more than worthwhile.
Virgin of Holland
Ask any Rotterdam inhabitant about the Scheepvaartkwartier or Delfshaven and he will show you the way blindly. In contrast, the old and centrally located MaHo area is not yet known to everyone which makes the area special, exciting and authentic. The MaHo Quarter – short for the 'Virgin of Holland' – is located between Pannekoekstraat, Botersloot and Nieuwemarkt, right behind crowd puller The Market Hall and a five-minute walk from Blaak Station.
The neighborhood's retail and hospitality offerings stay far away from big chain stores and is a unique, green neighborhood in the middle of the city full of distinctive and passionate entrepreneurs.
Artists, musicians and party gurus
Although the MaHo area is not yet known to everyone, a certain audience among Rotterdammers already knows how to find the stores and restaurants in this hip area and they trickle in from all corners of the city for 'fête in the MaHo quarter'. Chances are you'll be sitting on the terrace next to a Rotterdam artist or musician. Stylists get their inspiration and fashion finds from this neighborhood and the Rotterdam party gurus spend their broke Sundays here.
The village vibe in the middle of a metropolis can be felt in MaHo.
From Pizza ai Funghi to fancy fashion
You can spend a whole day in the MaHo quarter. There are numerous bars and restaurants to discover, each with its own cuisine and interior. From freshly twisted cookie dough with organic toppings or juicy fruit at Baker's Dough, to a fancy snack of stew and fries with gin tonic and caviar at Auntie Nel. For a traditional Indonesian rice table or delicious noodles go to Anugrah and Noo.Me. Other world cuisines can also be found nearby.
So you can slurp oysters at Brasserie Pierre, Try Spanish pintxos at Pix, eat stone oven pizza at The Pizza Bakers or feast on Greek delicacies at Deli Greek. The newest addition on Pancake Street is Restaurant Aji, The fourth restaurant of star chef Mario Ridder with affordable top dishes.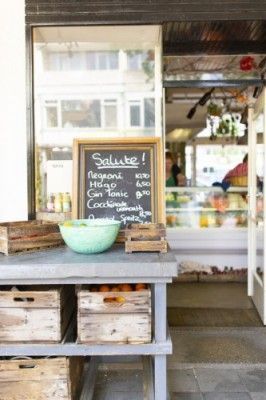 Furthermore, in this area you can find many boutiques with the latest trends. At OU. Boutique Stories shop clothes from different brands of guaranteed high quality. Expand your closet with elegant and feminine signature pieces? Then you can also take a look at Very Cherry.
The newest and hippest eyeglass frames can be found at Ace & Tate and for a real cutting experience you are at Mixtbaby at the right address: here they cut without a mirror, sitting at a long table surrounded by unique works of art (which are also for sale!). Besides unique restaurants and hip boutiques, the MaHo quarter is also characterized by a mix of pre- and post-war construction. With in the heart of the area the statue 'The Virgin of Holland' from 1874 by sculptor Joseph Graven.
Other information about MaHo
The location of MAHO: Botersloot, Pannekoekstraat and Nieuwmarkt Rotterdam
Facebook : www.facebook.MIXBABY
I visit Rotterdam far too rarely., But MaHo gives me a good reason to go again soon.