The most beautiful photos in a photo book, easy and quick.
The vacations have been a while for us, the boys are going back to school and we just have the normal rhythm again in our home/family. We have had six wonderful weeks, three of which were spent on vacation. I love photos's and also like to have my favorite photos's in a book. So I can look at them whenever I want. After the vacations I started with a photo book. Whether this was an easy job you can read here.
Italy and Switzerland
Our summer vacation this year went to Italy and Switzerland, something we hadn't really thought of beforehand. The idea was to go to Austria this year, but the weather gods did not favor us. So at the last moment we decided to change our vacation plans and go somewhere else after all.
Take photos, I keep shooting
The vacation was perhaps not as planned, but it was of course delicious. And that we had a great time can be seen in the many pictures we took this time too. The main thing about digital is that you keep shooting. These pictures are on the computer and occasionally I look at them again. Until I thought it would also be nice to put these photos's in a photo book.
Photo albums
When I was young I made a photo album every year. Full of photos from vacations, outings and celebrations. Nowadays I hardly do this anymore. I have a photo book of both boys from their first year of life. And from a few special vacations I have a book. Since I actually want to keep the memory of this vacation high, I decided to make a photo album.
I made my photo book at fotofabriek. On their site you will find a lot of choice of what to make. Besides photo books, you can also create diaries's, calendars and cards from photos's.
How it works
Creating a photo book is very easy. First you download the photo program that you find on the site of Fotofabriek and then you see what you want to make, what size and choose pages's. Want more pages's than indicated then you pay a little more later on. After choosing, you can get started. Fotofabriek made making a photo book very easy, so it can hardly go wrong. There are a lot of options, for example you can use:
Backgrounds
As backgrounds of the sheets you can use existing backgrounds, but also use your own photo, this gave in my book a very nice playful effect
Templates
There is a great choice of fixed templates to use in the sheets. you can use a different template on each page. I used this myself, because I could be sure that my photos were all the same size and by the different sizes of the template, the book got a nice playful effect and I could place as many photos as I wanted.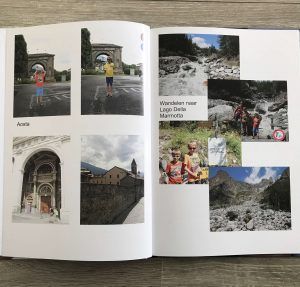 The result
The photo book turned out exactly as I thought it would. And it was easy and quick too. I like the photo front very much. The photo sheets look nice, the colors are absolutely correct. It turned out exactly as I had hoped.