Mexican appetizers and cheese enchiladas recipe
Mexican appetizers from Los Tequeros will make everyone happy. Delicious for drinks. Mexican food can be quite spicy, but it can also be mild.
Today I'm treating you to my favorites from Mexican cuisine with a recipe for a vegetarian enchilada.
Mexican food
Mexican appetizers! It just sounds delicious! The basis of Mexican cuisine is corn and beans.
From corn are the taco's and tortilla's made and beans that actually belong to every dish and you get them frequently as a side dish, in the sauce or pureed.
Snacks
Mexican is also great with drinks? How about these delicious Mexican appetizers from Los Taqueros. Nothing more festive than a warm bowl of nachos with a rich cheese topping on the table.
It really is quite simple: sprinkle the cheese flakes (mix of cheddar and Gouda) over the crispy tortilla chips, place it in the oven with the included aluminum tray and serve with the tomato salsa and fresh creamy lime dip.
And then these Empanadas, South American patties, which are filled with a spicy meat filling or with seasoned chicken, sautéed peppers, onions, a touch of chili pepper – for those who do like a little spice. Great with drinks or as an appetizer.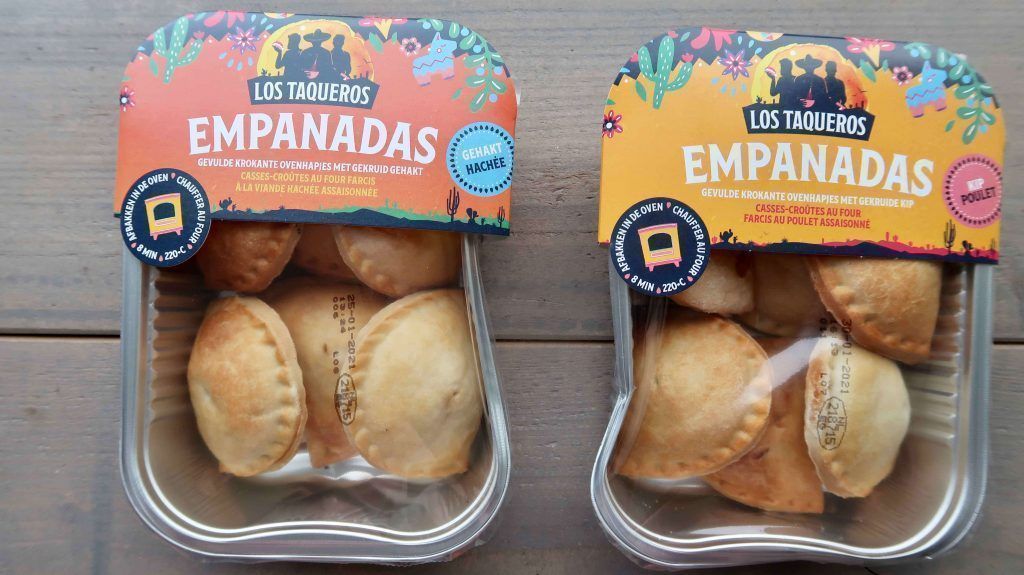 Deliciously spicy!
Recently we got to taste the nacho's and empenadas and I can only say that we are fans. The nacho's are so good! With the melted cheese and dip sauce, delicious. And the Empenadas. Both the chicken and minced meat were sure to please here.
The chicken is slightly spicier in flavor so the adults chose this as their favorite while the boys went for the minced meat.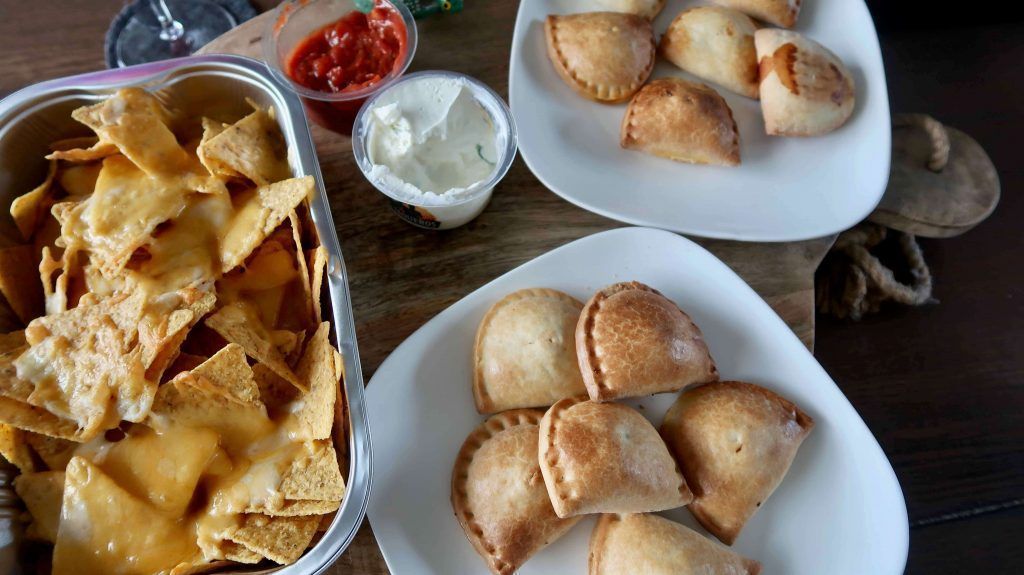 Los Taqueros Nacho kit
Available at Hoogvliet, Deen and Coop for €4.99 (410 grams)
Los Taqueros Empanadas with seasoned chicken or minced meat
Available at Jumbo, Hoogvliet, Deen, Boon's markt, Coop, Dirk, Deka and Nettorama for €3.49 (package with 6 pieces)
More Mexican
If you want to make a real Mexican party in addition to these tasty Mexican appetizers, then definitely consider Enchiladas. How about this vegetarian version:
Recipe Cheese Enchiladas
What you need for 4 people
8 tortilla's
olive oil
2 cloves of garlic ( one for the sauce and one for the stuffing)
1 can of peeled tomatoes
2 red peppers (one for the sauce and one for the filling)
1 onion
250 ml of cream
bag of grated cheese ( 150 gr)
can of kidney beans
cream cheese (200 gr)
tomato puree
green peppers (just how hot you want it)
cilantro
How to make these cheese enchiladas
First make the sauce: Chop the onion and cut 1 bell bell pepper into small pieces, chop the peppers finely. Heat the oil in a pan and add the onion, peppers and minced garlic the kidney beans. Fry until soft.
Add the peppers, tomatoes and tomato paste and simmer for 15 minutes.
When the sauce is boiling start the cheese filling: Heat some oil in a pan, cut the peppers and garlic for the filling and fry slowly until soft. Add the cilantro and whipping cream to, bring to a boil and simmer gently for a while. Add the cream cheese and stir until melted.
Stir in the grated cheese.
Take the tortilla and fill it with the cheese filling, fold it closed and spoon the red sauce over it. Enjoy your meal.