Tips For A Road Trip Through Southwest America
The Plans Are There, Next Year You Want To Make A Road Trip Through The Southwest of America. Logical, because Southwest America Is Beautiful. But What Is A Logical Round to Drive, which Campsites Are Top, And What Should You Consider In Terms Of Reservations for A Great Vacation?
I put in this article all my tips in a row.
Preparing A Trip
Two years ago We had our trip through Southwest america completely prepared, this did not happen because of covid. But in 2022 We Could Make Our Trip. Now there were some extra reservations here this year.
Reservations that I was happy to find out about and would like to pass along to Others Who Want to Travel Through Southwest America.
After all, you do not want to stand in front of a ' closed by '.
Where does the trip go
Traveling Through Southwest America is Perhaps The Standard Round Trip That Many People Make in 2-3 Week Vacation. Logical because this tour is Incredible Beautiful. You Will See Beautiful National Parks Duration this Trip and Can also Visit Some Cities.
We have leg in America Before and in the South West.
This is partly because My Sister Lives in California. Because I had leg here before, this year I knew exactly what I wanted to visit and which campgrounds I wanted to stay at. And so was able to plan my route QUITE EASily.
How does this route through America
The Southwest Route Through America Often Starts in Los Angeles. If you have time, be sure to visit Disneyland Anaheim. Keep in mind that nowadays you have to make a reservation for the park in Addition to a day ticket.
This does not cost extra, but you have to indicate in Advance if you want to visit Disneyland Park or Disney California Adventure Park.
Tip: A Good Place to Stay Duration Your Days At Disneyland is Best Western Plus Stovall ' S Inn. This Hotel (With Breakfast, Two Pools and 3 Hot Tubs) is A 15-minute Walk From Disneyland Park and Disney California Adventure Park.
Address: 1110 W Katella Ave, Anaheim, CA 92802, United States.
From La to Grand Canyon
When you pick up the Motorhome in Los Angeles make no mistake about the distance. We picked up our motorhome (C22 or 24 FT, Suitable for 4 Persons) at Roadbear RV in North LA. The First Miles You Drive You Have To Get Used To The Size Of The Motorhome, The Traffic And The Roads.
If you don't want to drive too far this day, the koa campground in barstow is the iDeal place for the first night's stay. You can Quietly Set Up The RV While the Kids Have Fun In The Pool.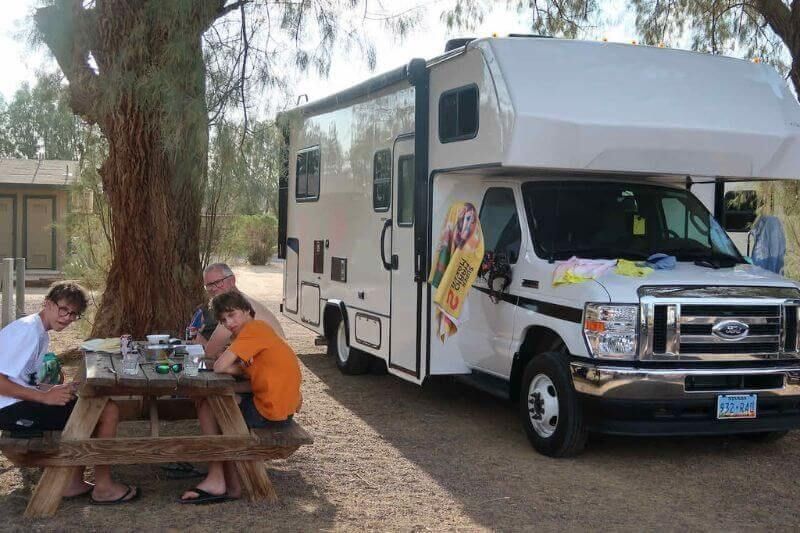 KOA BARSTOW
The next day you can drive to the grand canyon in one go, this is still a long way, but if you book the campsites in advance you know your spot is arranged. We had Three Weeks for This Route, so had Another Stop in Williams, at a koa. From here it was Another Hour to the Grand Canyon.
Tip: We interested our motorhome through an intermediary: Victoria Camperholidays.
The Grand Canyon
You can camp Outside the Grand Canyon or Inside the National Park. We like to be inside the park because you can leave the camper and walk or take a shuttle bus directly from the campground. An Ideal Place to Camp With The Motorhome is Trailer Village RV Park.
The Campground is Within Walking distance of Grand Canyon Village and Mather Point. Mather Point is of the First Place People Visit When Entering the Grand Canyon. In The Grand Canyon Shuttle Buses Run Along the Rim.
From Mather Point Starts A Hike Along the South Rim. Especially A Nice Hike is Bright Angel Trail. Take Enough Water With You And Don't Forget You Have To Walk Back Up As Well.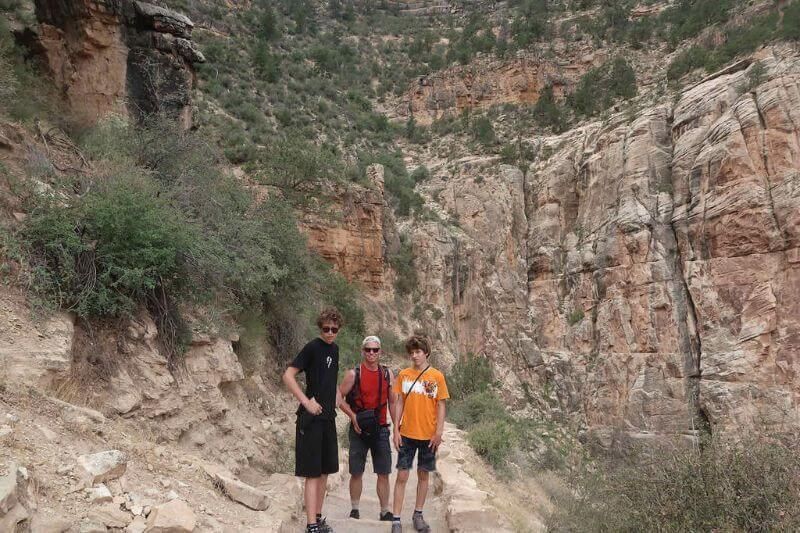 Bright Angel Trail
TipBuy A National Parks Pass As Soon As You Enter The Grand Canyon. This One Costs $ 80.00. Entrance Itelf is $ 30.00 So if you are going to visit more than two parks, this pass is iDeal.
If you have Enough Days, also Visit Monument Valley
Make No Mistake About The Distances You Drive in Southwest America. Figure Out In Advance What You Need To Drive To See Everything And You May Have To Make Choices. If you have time to spare then a visit to monument valley is definitely zerth the drive.
Driving Towards Monument Valley You Will Already See Beautiful Rocks, But If You Want To See The Real Thing, A Jeep Tour is A Good Idea. Gouldings is a beautiful campground in a great location, where you can arrange a jeep tour right away.
You can Chose from Several Tours, We Chose the 3.5 Hour Deluxe Tour. This Tour Covers Monument Valley's Famous 17-Mile Loop and Visits The Backcountry. You Visit the Famous Viewpoints Like the East and West Mittens, John Ford ' S Point & Three Sisters, The Totem Pole Viewpoint, Artist ' S Point and the North Window Viewpoints.
In The Hinterland Make A Stop at the Sun ' S Eye & Ear of the wind.
This part of the Navajo Tribal Park Has Hidden Treasures Such As Natural Arches And Offers Several Viewpoints. You will also visit an authentic navajo hogan at a local residence to see a carpet weaving demonstration by a member of the local navajo family.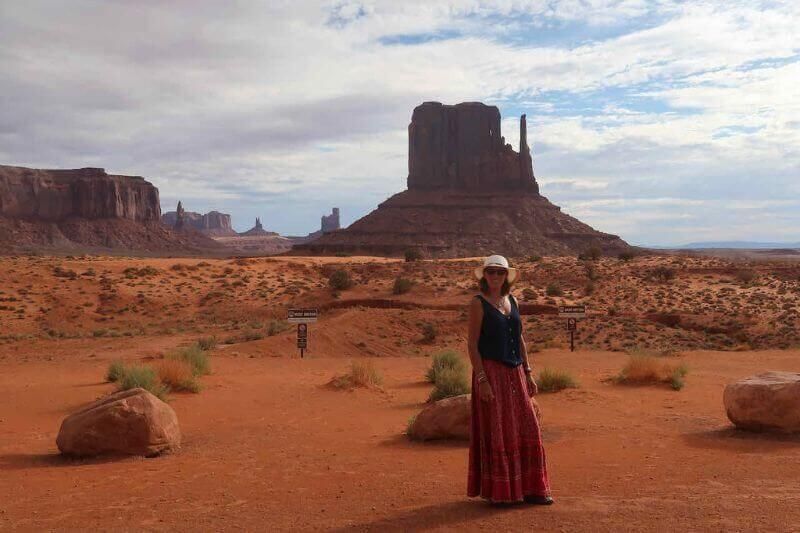 Visit moab utah
Given Time, Not Everyone Goes To Moab in Utah. Yet this is also a place where you can see surprises nature. If you go to arches np do not forget to reserve the day.
You can do this through Recreation. GOV. This year was a pilot for having to reserve a timed entry ticket duration the peak season. If you go next year, be sure to keep an eye out if this is still the case.
It would be a Shame if you drive to arches for nothing.
Popular in Arches NP is the hike to delicate arch, Dis is a nice spirited hike with beautiful views of the arch. Because it is a lot Quieter in the park (because of the reservations) you can Easily Park at all the viewpoints and visit the beautiful leaks.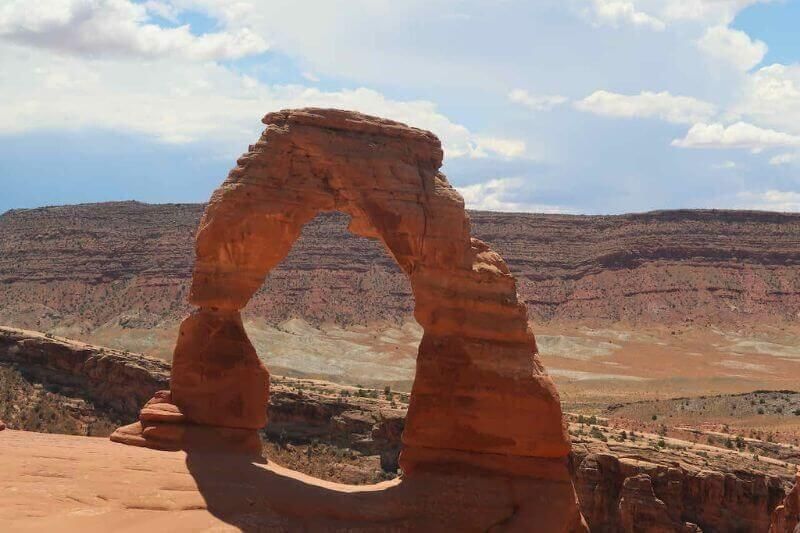 TipThere are Enough Campgrounds in Moab, We Chose Here again for a koa campground, this is because koa campgrounds always have a swimming pool, Something our sons are very happy with.
If you are in moab, be sure to spend a day at deadhorse point state park and canyonlands np:
Dead Horse Point State Park
Dead Horse Point is a State Park and is not covered by the National Parks Pass, You Pay Separate Entrance Fee. The Spot is Especiate Worth Visiting for Its Stunning Views of the Colorado Valley. The Green River Meanders Between The Canyons Here.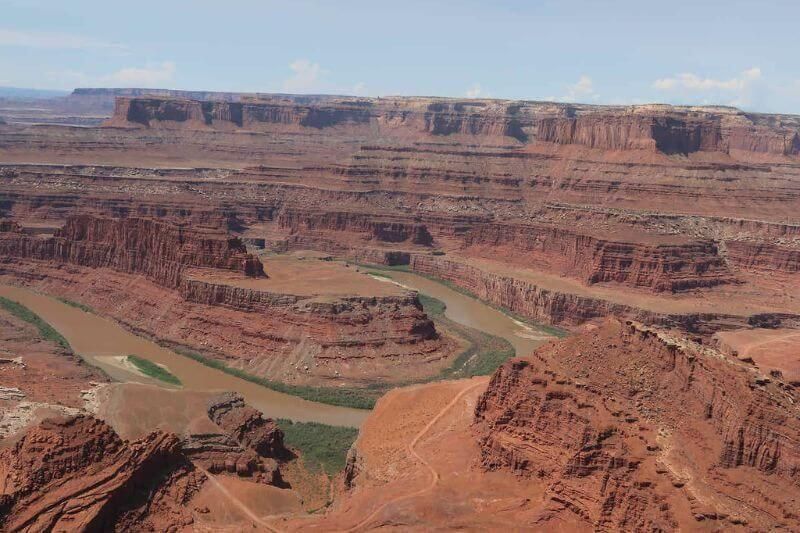 Canyonlands NP
Canyonlands is a National Park or 1349 Square kilometers in Size. The Park is very unspoiled and hasyons and table mountains. Canyonlands NP Consists of Several Parts, From Moab You Visit The Island In The Sky.
The Best Places to Hike Here are Grand View Point Overlook and Mesa Arch.
At Grand View Point Overlook You Have A Magnificent View of Monument Basin, A Deep Canyon Created by the Colorado River. You can walk to the overlook Alone or Take the Hike That also Starts here. If you have the time, definitely go for the hike.
The View is Perhaps Even Better Than The Grand Canyon!
The Hike is 2 miles.
Mesa Arch is Perhaps The Most Popular Hike in Canyonlands, this because it is a short hike (0.5 Miles) with Mesa Arch at the End.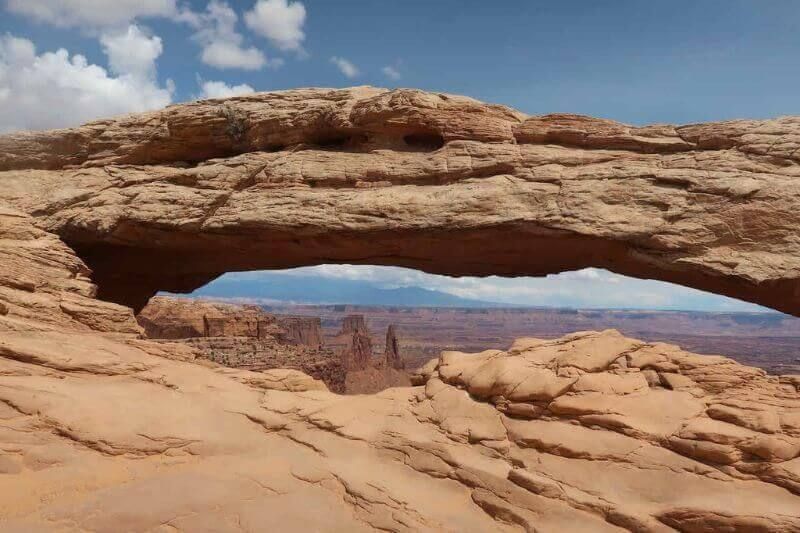 Bryce NP and Zion NP
In Southwest America Bryce NP and Zion NP Are More Famous Than Arches NP, This is also because this is more on the route. Bryce np is a park that is great to visit in a day, where you can say we'll drive on after the visit or stay an extra night. An Excellent Campsite in Any Case is Ruby ' S Inn.
A Campsite Just Before the Entrance of Bryce NP. You May Not Enter The Park With An RV, But Free Shuttle Buses Go in Front of the Campground.
Tip: Online Reservations for the Campground Did Not Work As the Credit Card Could Not Be Filled Out Completing, Therefore You Must Call To Make Reservations.
Hiking in Bryce NP
Bryce NP is A Surprising Park. The Views You See Here You Won't See Anywhere Else. It is Beautiful and Surprising.
You can take the shuttle bus all the way through the park. Here you can get in and out anywhere and see the hoodoos from Vantage points.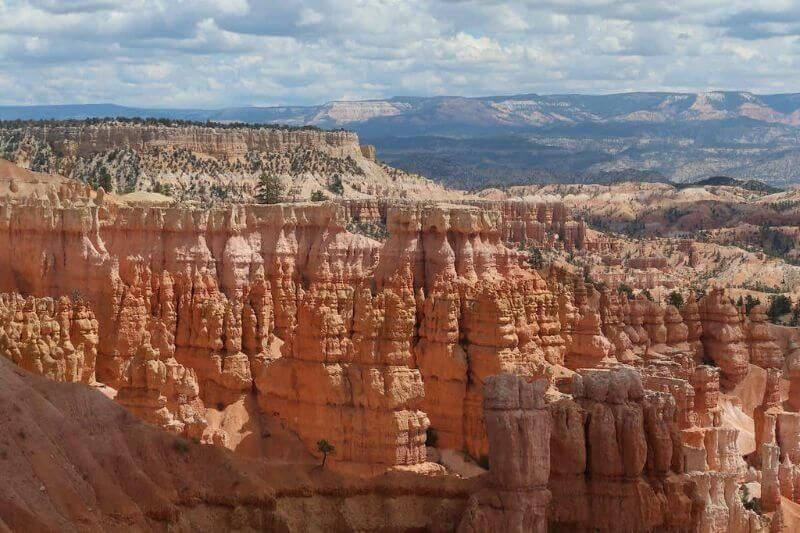 The Most Beautiful and Popular Hike in Bryce is the Combination of the Queens Garden Trail, The Navajo Loop Trail, and The Rim Trail. This Route is just under 5 kilometers long.
Tip: You can start the hike in Two Places. Hike the Trail Clockwise, So Start Your Hike At Sunrise Point, Then Take Queen's Garden Trail and Hike Back Up Via The Navajo Loop Trail. This mean that at the end you have to walk steeply up to sunset point, but you have by far the best view.
Zion NP
More Popular and Crowded Than Bryce is Zion NP. We Understand That, because we are big fans of Zion Ourselves. We wanted to book Four Nights Here at Watchman Campground, A Campground in the Middle of the National Park.
Booking a campsite is a hell of a job.
Book Through the Same Site Where You Book Arches (Recreation. GOV). You have to arrive on a Certain Day (Six Months Before You Want To Camp) at 16.00 Be ready at the laptop and be lucky to click on the right spot at the right time. There are many Others who do this at the same time.
Can't Make It Now, Just Wait 15 minutes. The Spots are in Fact Reserved for 15 minutes, if oneone does not complete the reservation, The Spot Becomes Free Again.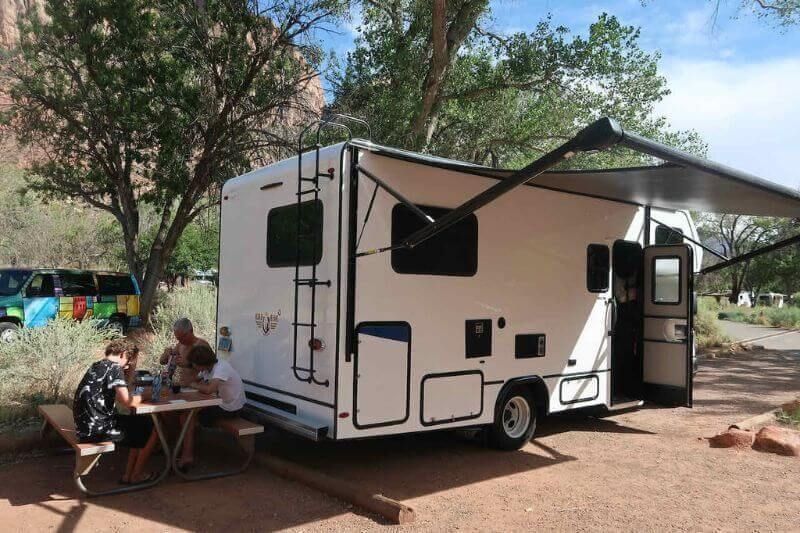 Watchman Campground Zion
The Advantage of Staying at Watchman Campground is that every day you can take the shuttle from the visitors center to go into the park.
TipWhen you come from Bryce NP, you go through a tunnel. The Cost of This For An RV You Already Pay At Park Entrance. The part from this tunnel to the visitors center on the South Side of the Park, is beautiful.
Here you do not come later, However, because where the hikes are Another Direction.
So Be Sure To Stop Every Now and Then And Take In The Beautiful Views.
Hiking in Zion
Zion can only be Entered with Shuttle Buses. These start at the Visitors Center. There are plenty of hikes to do, from easy to difficult. The Most Popular Hike Is Angels Landing.
Something has changed here too.
If you Used to Just Walk This Walk, Nowadays in High Season and In Autumn There Is A Lottery. This is because this hike ends with a tricky climb with cables. So To Limit The Big Rush of People Going Up Here You Need To Have Confirmation.
This lottery can also be found again on the recreation site.GOV. Aren't you now entered for this hike. The First Section Up to the Climb is also Beautiful (And Steep) So Definitely Worth Hiking.
The Only Thing You Miss is the Difficult Climb at the End.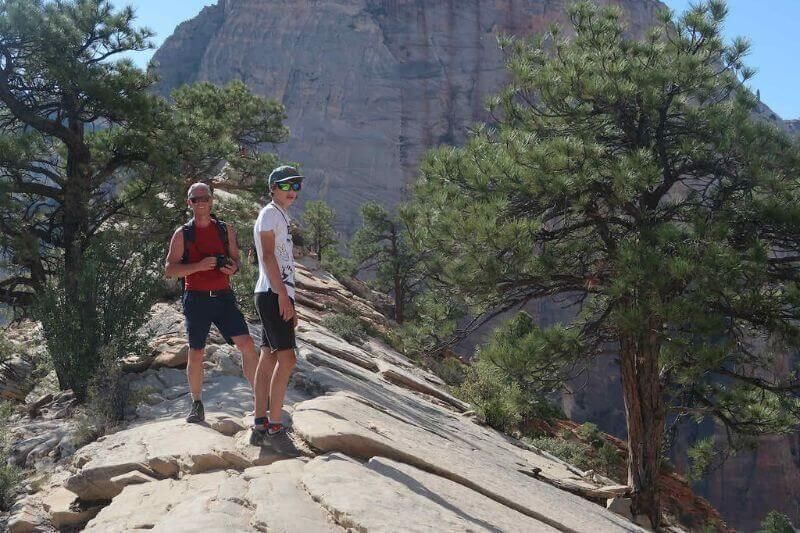 Up at angels landing
Other Great Hikes in Zion NP Are:
The Watchman Trail (Highly Recommended)
Emerald Pools
The riverwalk
Viva Las Vegas
If you want to take an RV to Las Vegas, there is an RV Park at Casino Circus Circus, This Casino is about at the Beginning of the $ Trip and Therefore the Ideal Place to Camp. It is a Large Parking Area Where Your Camper Can Park. Disadvantage of this RV Park is that it is very old and dilapidated.
Compared to a few years ago, they have halved in space and the reception is very old. By the way, the restrooms are still good and modern. So I Don't Know If This Campground has a Long Life Left.
Advantage Though is that at this park you get free use of the Adjacent Pool and Water Slides Park of Casino Circus Circus. Into the Water Duration the Day and ' Up the $ trip at Night. Definitely Go Into The Various Casinos ' S, Because Beids that It is Beautiful Outside With All The Lights There is also in The Casino ' S A Lot To See.
Yosemite NP
In The Months Of July and August You May Not Enter Death Valley With An RV, This Means That You Have To Make A Detour If You Want To Drive Via Tioga Pass Into Yosemite NP. Driving through to yosemite in one go is a very long stretch, so stop for example in bishop. A Good Campground Where We Have Been Twice Now Is Brown ' S Town Campground.
Tip: You Can't Reserve This Campground by Mail, But You Must Call. However when we were there, there was hardly anyone there.
Camping in Yosemite
If you want to camp in the middle of yosemite np then you have to do the same exercise as at zion np. Again, On The Day Counts Six Months Before Your Arrival at 16.00 Be ready, have a place in mind and hope you can get here. Advantage is that there are many more campsites than in Zion, disadvantage is that it is very popular.
If you can't make it inside yosemite valley, there are plenty of campsites outside the National Park NP.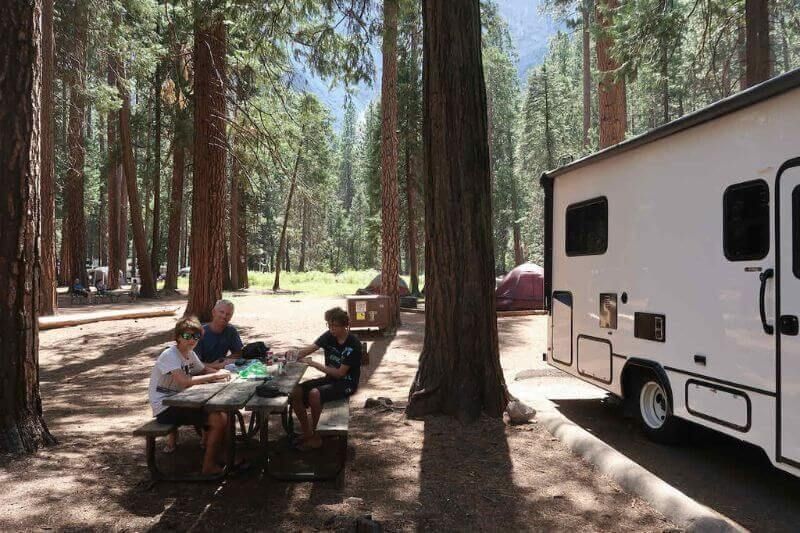 Upper Pines Campground
Tip: Also for yosemite np you have to have a park ticketed entry nowadays if you are not staying in yosemite valley. This year that was from May Until the End of September, also you arrange this through the same site.
Hiking in Yosemite
Yosemite is a climbing paradise and is of course Known for El Capitan and Half Dome but also for hiking it is beautiful.
Nice Walks Are:
FOG trail
Yosemite Fall Trail
Four Mile Trail
Mirror Lake
San Francisco
Our Trip This Year in Southwest America Went from Los Angeles to San Francisco. Because we wanted to stay a few more days in San Francisco Before We Flew Back to the Netherlands, we booked a hotel in the middle of downtown and close to the bart (the public transportation that takes you to the airport).
What is there to do in San Francisco:
Of course A Visit to Alcatraz
Lombart Street
Chinatown
Eating Clam Chowder at Fishermans Warf
Pier 39
Golden Gate Park
Hight St and Albury
Hiking to the Golden Gate Bridge
Tip: Book Alcatraz tickets in Advance at Alcatraz Cruises. Without a reservation, you won to alcatraz island – in high -season – odherwise.
What to Arrange Before You Go to America
Whether you are going to Southwest America or Anywhere Else in America, what to arrange in Advance. At Least an Esta Form. Make Sure You Arrange This At The Official Site. In my search for this site, I came across many other sites that would take care of your esta for a lot more money.
These sites looked professional.
So Pay Close Attention. Also, your Passport must be valid for at Least 6 Months After You Leave the U.S. So Check in Advance.
If you are traveling around in a car or RV, Rental Companies May Require an International Driving Permit, which you can buy from ANWB.
Where is your trip going
Where is your next trip going? A Round Trip Through Southwest America, Another Part of America or Going Somewhere Completely Different and Came Across This Article Just to Inform You, I Hope I Was Able To Provide Information And If You Have An Additions Feel Feel Feel In A Lave Them In a Lave Them In A In Lave Them In A Lave Them In A Lave Them In A Lave Them In A Lave Them In A Lave Them In A Lave Them In A Lave Theme. If you have any questions, Feel Free to Ask Them Too.