Book Review: I don't care who started!
I don't care who started! Give your child a better bond and less fight, is a book by Eva Bronsveld and Elsbeth Teeling. A book written for parents. Parents who occasionally sit with their hands in their hair because of the children's quarrels.
This book contains texts that can support you as a parent with first aid in social development. A book to take it occasionally if you don't remember it anymore!
I don't care who started!
As a parent you will recognize it, the arguing, the kids' madness of the children. I don't care who started! Give your child a better bond and less fight.
Read how you as a parent can guide your children and learn to deal with this yourself.
Read this book as a cookbook
As Eva Bronsveld and Elsbeth Teeling already indicated in the introduction, you can read this book best as a cookbook. Take out the recipes (chapters) that play with you at that moment. Don't be too strict for yourself.
You don't read this book one after the other. They are guidelines and handles. Where you learn how you can help your children to argue less and learn to deal better with each other.
There is no right or wrong. And even after reading this book you will sometimes stumble, that doesn't matter at all. After all, we are all people.
Recognition and recognition
In this book you can read a lot of recognition, things that also happen to you and me. In this book you can read tips on how to deal with certain situations. Occasionally to ten counts and sometimes the fight by parking by coming back to it later. You read how the development is going with children.
How children first play and slowly learn to play and share together. Sometimes they are small changes that contribute to less argument in the house and sometimes you will have to be stricter and have other rules. You read it all in this book.
The book
The book has two parts. Share one IS ' First Aid for Bibbel and Grazie ' and contains nine chapters. This part of the book is mainly about your role during bickering or arguing.
Because how do you stand there during a fight. You will shoot out of your shoe quickly when they argue again. Talk to them immediately or let them go. In this part of the book you can read how important it is to think of your own attitude and tone when children are arguing.
So maybe count to 10 counts more often and tackle it mature.
But also take a good look at the children, read their signals, because here too there is a difference. Does not want to talk to one child at all about a fight, the other may have a lot of need for this. And how do you deal with this as a parent.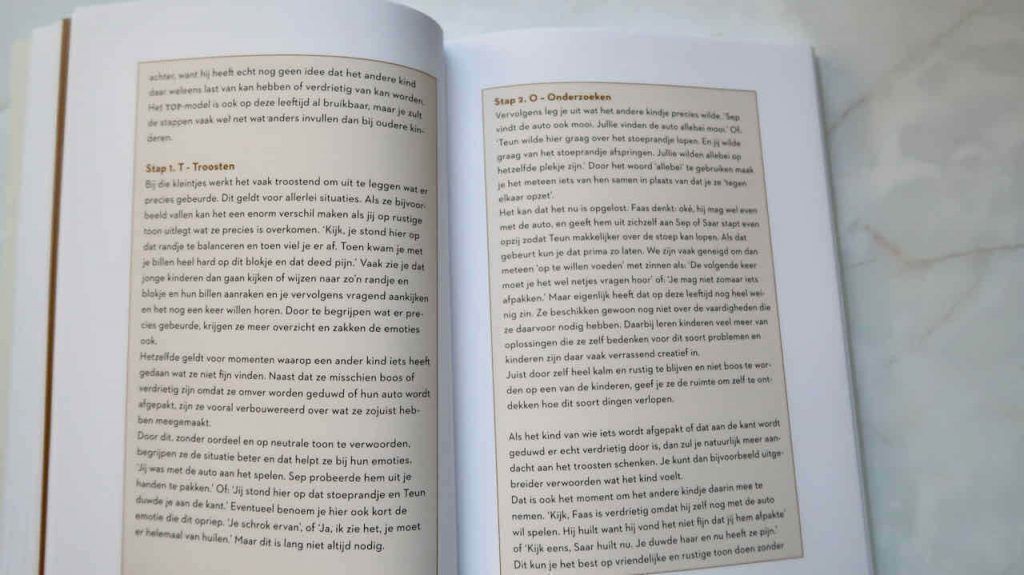 In the first part of this book it is clearly discussed that talking to each other is so incredibly most important. And not only you to the children, but also those who have to learn to tell their feelings. No subject has remained undiscussed.
Part 2
Part two has 5 chapters and is about ' preventing is better than cure.' These chapters deal with, among other things, the development phase and empathy. But also how you strengthen the special bond between brothers and sisters. The essence of the story remains here that even though brothers and sisters argue, they will remain brothers and sisters.
Of course they also have a lot of beautiful moments. Sometimes we want to forget this and we only see the quarrels among themselves. That is why Chapter 13 is so nice, in this chapter you learn how to strengthen the special bond between brothers and sisters.
This chapter contains many examples and tips that you can get started right away.
In the final chapter, I don't care who started! is ' there is a brother or sister at ', whatever this book makes an ideal maternity gift.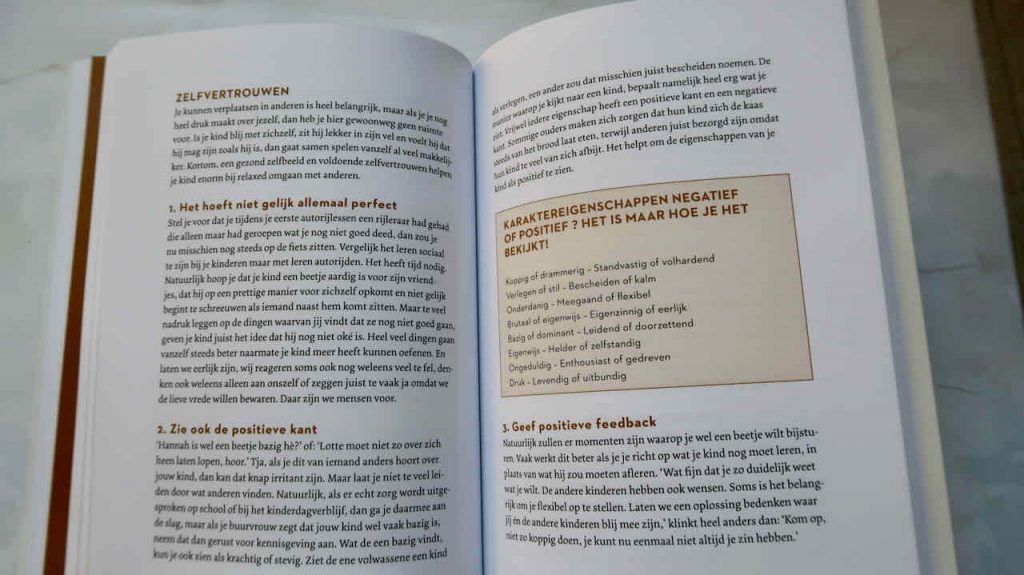 Overview and clear language
I don't care who started! is a very well -arranged book. This is due to the clear titles of the chapters and the register in the back, this helps you very easily find the right pages you are looking for. Those chapters that you just need at that moment. The many pieces with a different color are indicated in the book.
For example ' make the six -fall pits in a fight '. Precisely because of the clear picture, the text stands out well and you quickly grab these pieces of text again as a short repetition for yourself, if necessary.
A book that should be in the cupboard with every parent
I don't care who started! is a book that should be in the cupboard with every parent. It is a very fine written book. Great because it is written in such a way that you have the idea that you are listening to a friend while reading. A friend who gives you tips.
There are no reproaches, you don't do it wrong, you get constructive criticism and tips. It is a book that does not indicate what you are doing wrong, but how you can deal with things differently in certain situations. Sometimes they are easy steps that you can use in your household.
You might have to think a little longer about other things. That things are not always going well and this book in the cupboard will still be bickering in the house, that is as a pole above water.
Focus on good
It is exactly what Eva and Elsbeth say in the last words of this book: " keep looking at the beautiful moments. The times they help each other, crying together with laughing over the ground, the moments when they are kind to each other, learn something, and the times they secretly tension against you. Focus on good and don't forget: everything that gets attention grows!"
Really a book to have in the closet and to grab it if you don't know anymore.
I didn't care who started*: here you buy this book
*This title appeared in a different form earlier as playing together what share now.